World Wetlands Day is celebrated on 2 February every year. It is time for everyone to understand the importance of wetlands. This years theme is 'Wetlands Action for People and Nature'. It's an appeal to invest financial, human and political capital to save the world's wetlands from disappearing and to restore those we have degraded..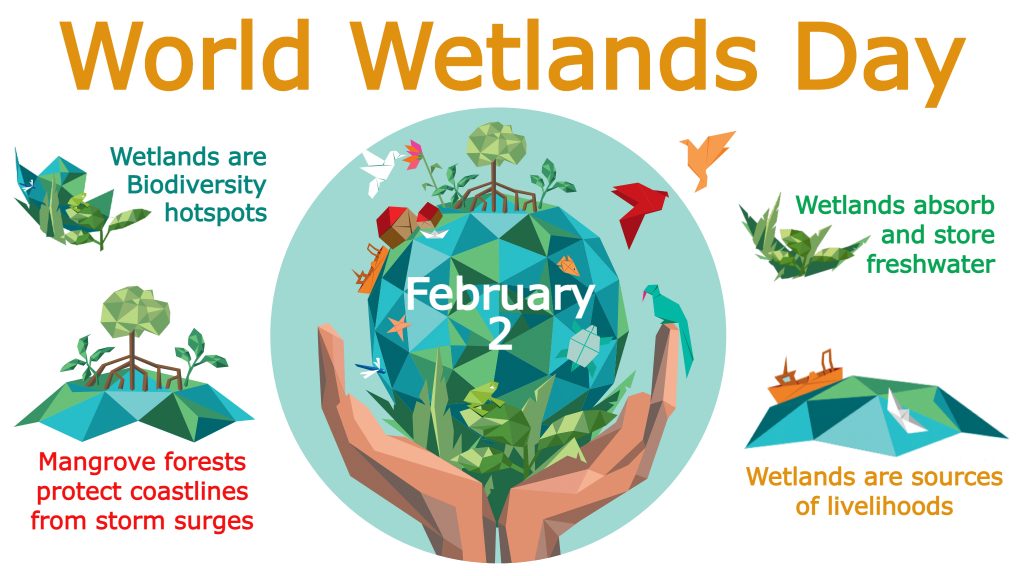 Why are Wetlands important for Biodiversity?
Wetlands are important because 40% of the world's plant and animal species live or breed in wetlands. Over 100,000 freshwater species have been identified in wetlands. Wetlands absorb and store water and help remove pollutant from our water.
Did you know?
Coastal wetlands are among the most biologically diverse places on earth
Coral Reef and Mangrove forest protect coastlines from storm surges
Wetlands are vanishing three times faster than forests with 35% disappearing since the 1970s. The causes of wetland loss include:

Drainage and infilling for agriculture and construction
Pollution
Overexploitation of resources including overfishing
Invasive species
Climate change
Since 1970 populations of fish, birds, mammals, amphibians, and reptiles have declined by 60%. There has also been a decline of 81% of inland wetland species and 36% of coastal and marine species. A staggering 25% of wetland species are considered to be threatened with extinction, including water birds, freshwater dependent mammals, marine turtles, and coral reef building species.
Wetlands are areas of land saturated or flooded with water permanently or seasonally.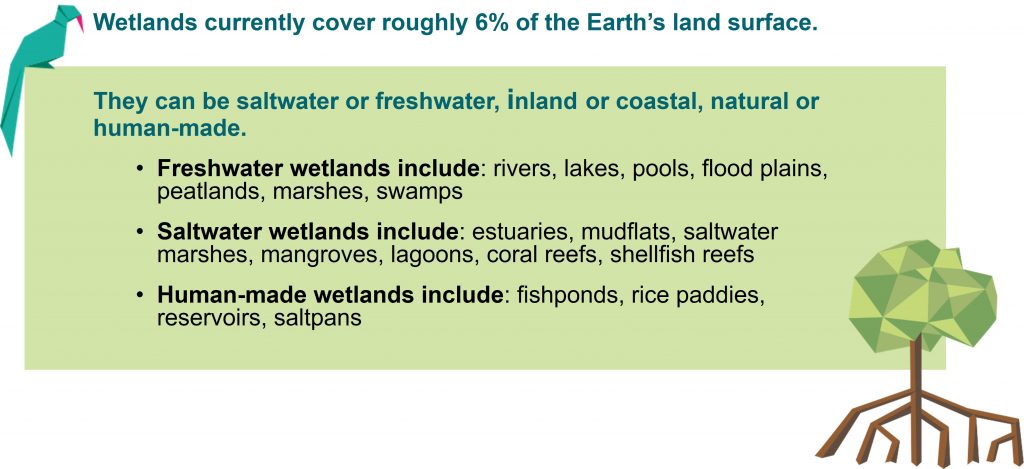 There are amazing wetlands to explore in the middle of Sydney.
Sydney Olympic Parks is an urban oasis connecting people with nature. This is a great place to explore to understand the importance of wetlands for biodiversity.
Frog Walk
The Frog Walk takes you to frog ponds, frog underpasses and even frog fencing at Wentworth Common and Kronos Hill. You can also visit the Brickpit Ring Walk too see the most significant habitat for the endangered Green and Golden Bell Frog. Remember healthy frogs are an indicator of healthy ecosystems.
Narrawang Wetland
Meander along walking paths and a reed-fringed boardwalk to observe the habitat that supports a colony of the endangered Green and Golden Bell frogs and other frog species.
Badu Mangrove Boardwalk
Stroll the winding timber boardwalk in Bicentennial Park and you'll discover surviving riverside wetlands that shelter colourful waterbirds plus the largest mangrove forest remaining on the Parramatta River.
Waterbird Refuge at Bicentennial Park
Walk up to the Waterbird Refuge significant
waterbird habitat with a high abundance and diversity of resident and migratory birds. Together with the surrounding mangrove forest, the wetland is listed as a 'Wetland of National Importance' by
the Commonwealth Government because of its high ecological values.
Discover more about the importance of wetlands through these publications and how the Urban Water Cycle connects us. Check the health of your local wetland with the Wetland Audit.