I've been working on education resources for the Junior Landcare Learning Centre and was excited to be able to contribute to this years Coastcare Week campaign.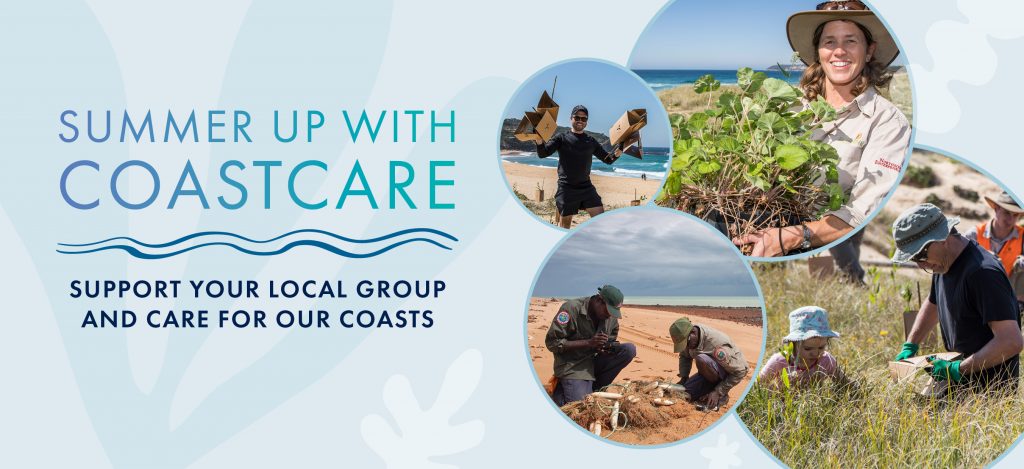 Coastcare Week is on between 7 – 13 December and Summer up with Coastcare is the 2020 campaign. The campaign aims to raise public awareness of the effects of litter on our waterways, encouraging all Australians to get connected to their local environment with Coastcare, and support groups to continue their invaluable work.
To recognise Coastcare Week find out ways you can help clean up your local marine environment.
At the beach, keep on the walking tracks. This protects the vegetation that provides habitat for local native birds and other animals, and prevents erosion.
Ensure your dogs are kept on a lead in areas where dune vegetation is vulnerable.
Landcare and Coastcare groups work on these sites to enhance the habitat for native animals to protect them.
Avoid and Reduce – by reducing your plastic footprint, you are helping to protect our rivers and waterways that will keep our beaches and oceans clean and protect marine animals from the impact of rubbish including plastics.
Reuse – if you need to use plastic products, make sure you reuse items over and over again before disposing of them thoughtfully at the end of their useful life.
Recycle – if you can't reuse an item or if it is at the end of it's useful life, recycle it or compost it.
Make sure you take a bag with you to the beach to collect rubbish on your next walk.
Every piece of plastic removed from the marine environment can save an animal's life, and reduce the amount of microplastic created.