I have over 20 years' experience working across GLAM sector. My career started in the 90's as a front of house volunteer where I gained valuable experience delivering public programs. I developed and delivered tours and hands on programs for a variety of visitors.
This was my first glimpse into the amazing opportunities Museums, heritage and cultural sites provide to share stories and create immersive visitor experiences.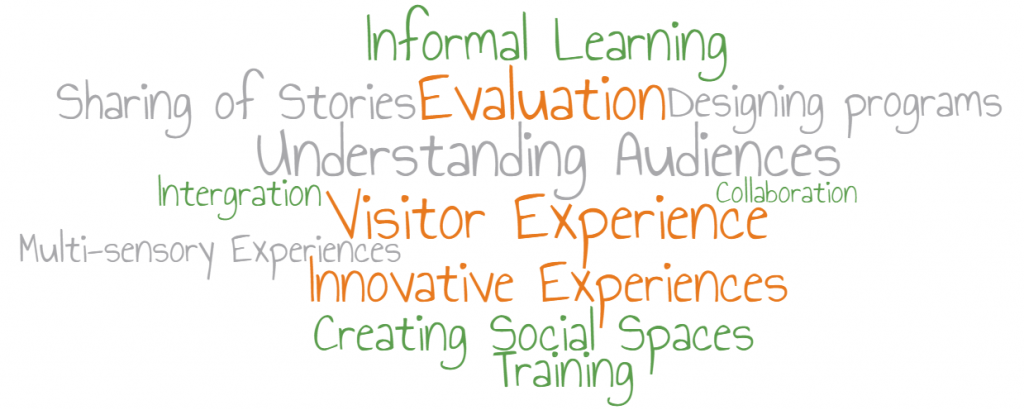 I have been involved in exhibition and program design, text writing and visitor program and education development. The key is understanding your audience and creating programs and spaces that meet their needs. The diversity of experiences I have had throughout my career enable me to deliver projects of all sizes, such as the development of Museum in a Box and large-scale multimillion dollar exhibitions like the Surviving Australia Exhibition at the Australian Museum.
The concept of creating Social Spaces that bring people together and facilitate the sharing of stories and ideas provides the opportunity to enhance the visitor experience to any organisation. These include creating multi-sensory experiences and integrating the concept of visitor experience throughout a visit and not isolating the audience. It is also important to explore both formal and informal learning opportunities when looking at design and development of any visitor experience.
I have extensive experience writing grants and developing collaborative partnerships to deliver project outcomes. I have been involved in award winning programs and exhibitions throughout my career including; Museum in a Box, Museum2you and StreamWatch.
Experience
Developing new and innovative experiences
Designing and evaluating tours
Training Visitor Experience staff
Understanding Audiences
Qualifications:
BSc Physical Geography and Environmental Science – Macquarie University
Masters Environmental Education – Macquarie University

Informal Learning and Museum Studies