Diving in Sydney is a great experience, there is literally a secret garden hidden beneath the surface. Sandstone rock formations, incredible sponge gardens and a huge diversity of marine life is waiting for you to explore.
Watch this video to get a taste of what is hidden beneath the surface.
I know not everyone is interested in scuba diving so I thought I would share some of the amazing species I saw on my last dive at Long Reef and Old Mans Hat in Sydney with you. You can experience what I saw without leaving your house.
Giant Cuttlefish
The Giant Cuttlefish Sepia apama are one of my favourite animals to find on a dive. They are inquisitive and playful and amazing to see. They can change the colour and texture of their skin so quickly that it almost looks like they are flashing. One of my favourite moments was when I found a Giant Cuttlefish under a ledge, I offered it my occy (secondary air hose) that has a fluro yellow end. The Cuttle was fascinated with the colour and movement, it came in very close, extended a tentacle and tried to take the occy. It was unforgettable to have a personal interaction and be so close to these highly intelligent animals. You can find out more about the Giant Cuttlefish on the Australian Museum website.
Sydney Octopus
My sister spotted a Common Sydney Octopus Octopus tetricus trying to hide in the rock wall. Their camouflage is truly incredible and are very hard to find. One tip is to look for a a pile of discarded shells from their last meal. You can find out more on the Australian Museum website
Blue Groper
The Eastern Blue Groper Achoerodus viridis is a familiar sight for Sydney Divers. The friendly Blue Groper often follows you around while you are on a dive. I have been surprised more than once to turn around and be face to face with one of these guys. You can find out more about the Blue Groper on the Australian Museum website
Weedy Sea Dragon
I was very lucky to see 5 Weedy Seadragon Phyllopteryx taeniolatus at Old Mans Hat yesterday. They camouflage by hiding in the kelp and you need to look carefully to find them. People will often find their dried bodies washed up on the shore after storms. You can find out more about the Weedy Seadragon on the Australian Museum website.
Spotted Wobbegong
It is not unusual to find a Spotted Wobbegong Orectolobus maculatus hiding under a rock ledge or spotting a tail through a gap in the rocks. My sister pointed the Wobby hiding under a ledge at Long Reef. You can find out more about the Spotted Woobegong on the Australian Museum website.
Grey Nurse Shark
I was excited to see so many Grey Nurse Sharks Carcharias taurus yesterday. At one point I was swimming along the top of the rock wall will a adult swam in time below, it must have been almost 3 metres long. I was mesmerised watching this majestic animal and wondered why these sharks create a panic with so many people.
Nudibranchs
Nudibranchs are sea slugs, they are small, colourful and slow moving. Approximately 382 species have been found along the NSW coastline. I saw several of the Nudibranch Polycera hedgpethi pictured below on my dive yesterday. I usually see a couple of different species on each Sydney dive. You can find out more about the variety of Sydney Nudibranch on the Sydney Dive website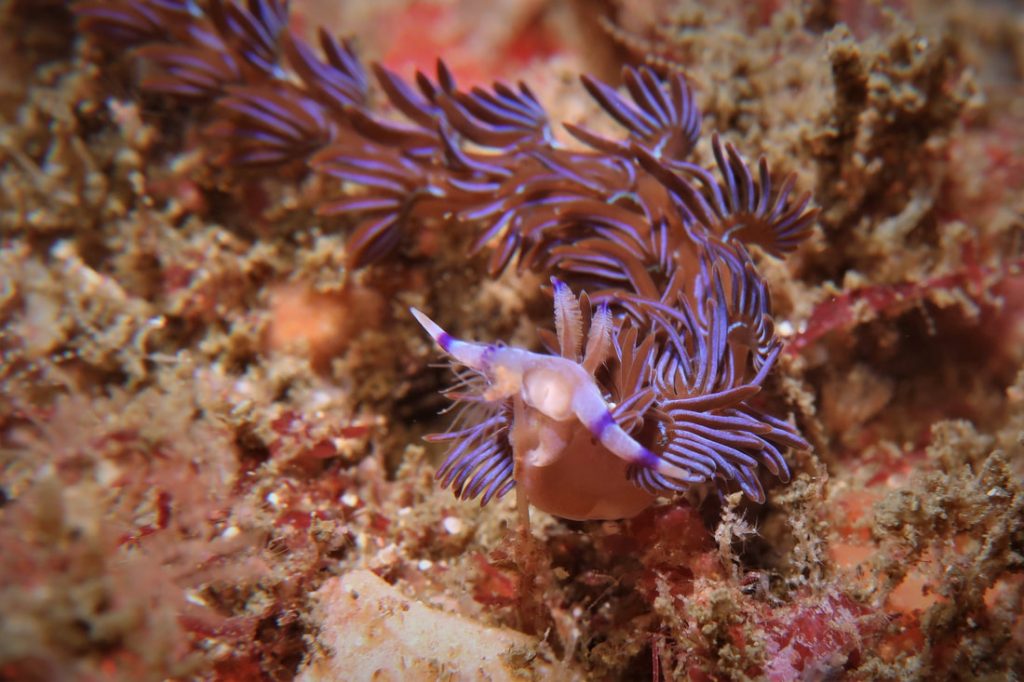 Sponge Gardens
Sponge Gardens are hidden gardens beneath the sea. The Sea Tulips and sponges move in the current to create a surreal environment. It feels like you are in another world.
What can you do to help preserve this amazing environment?
Remove any rubbish that you find in the water or on the beach
Remove any bits of fishing line and nets that you see
Be aware that what you do on land impacts our marine systems downstream